Here's an idea for handmade cards for coffee lovers – and cat lovers!
This idea for handmade cards for coffee lovers includes some feline friends and we think it's just fabulous! A good cup of coffee, a friendly kitty and this card all share that cozy feeling of warmth and affection. Let's take a look at how Lisa put this together so we can try it out, too.
A quick note – we've receive messages from fans thanking us for sharing all the steps and PRO TIPS that go into making these cards. We know that not everyone does this and we also know that the more YOU know about how to make something, the more likely you are to take the leap and try it out. We want everyone to LOVE making their cards, scrapbooks and paper crafts and we feel like the more information we can give you, the more empowered you will be to try out things you see. And we thank our incredibly talented and generous Design Team members for sharing all their insider scoop with all of us!
On to Lisa's card! She started by stamping her images from our Coffee Lovers and Cats in Coffee Cups set with Copic friendly ink, colored them in with her Copics and then cut them out with our coordinating dies. Lisa also chose a sentiment from our Summer Bloom set because she thought the expression "Enjoy the Moment" perfectly summed up the mood on this card. She added a few little details to her colored images with her Nuvo drops and set these aside to dry.
Next, Lisa cut a piece of white card stock with one of the dies from our Nested Rectangle Small Stitch Die set and, spraying the back of our Coffee Bean stencil with Pixie Spray, laid it over that die cut panel. She then blended all four of the shades of brown Color Fuse Ink from Set #3 over the stencil, starting with the darkest at the bottom and finishing with the lightest at the top for an ombre look.
Without removing the stencil, she wiped it off with a soft tissue and then applied some iridescent glitter gel over the stencil and set it aside to dry. Lisa says "Because the glitter gel was iridescent depending on the angle it takes on some other colors… it looks greenish in these photos… but with the brown undertones, I love it!" Personally, we think it looks amazing, no matter what shade it takes on!
Next, Lisa cut more white card stock with our Rectangle Combo OPC #3 die and kept the largest scalloped rectangle frame for this project, tucking the extras into her die storage for easy access for future projects. She also cut some brown card stock to
4 1⁄8" X 5 3⁄8".
Now she assembled her card. Lisa adhered her completely dry coffee bean panel to her brown panel and adhered both to her white card base with her tape runner. She added thin strips of foam tape to the back of her scalloped frame and adhered that over her coffee beans.
Now she arranged her die cut elements onto the card and adhered them with varying thicknesses of dimensional adhesive and with the addition of a few sequins, this precious project was complete!
Here are the things you will need to replicate this cozy card: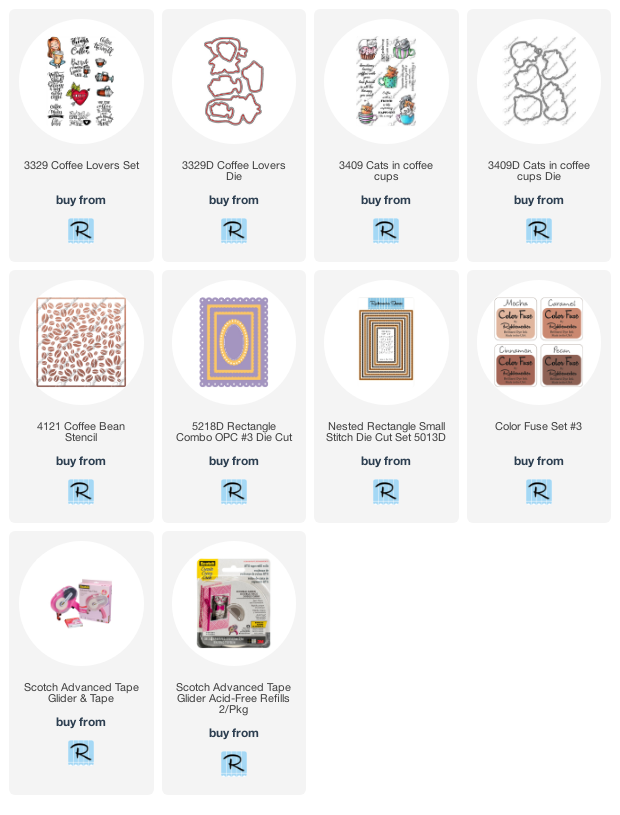 We feel like we can never have too many ideas for handmade cards for coffee lovers and when you add cats into the mix, you are really hitting their hearts! Of course, if your coffee loving friends prefer pupper pals, we have those, too! Go grab a cup of your favorite hot brew and make a card for a friend – it will have you feeling all warm and cozy!