Sending handmade cards to support a friend? Check out this sweet design!
There are lots of reasons to make and send handmade cards to support a friend going through something hard or unpleasant and this design idea from Jamie is a total go-to. It's perfect for any gender, any age and for any reason because the sweet imagery is universally recognized and the colors are not too bright, not too dark……this is like the perfect "Goldilocks" card! Let's take a look at the steps to create one, shall we?
Jamie started by stamping her images from our Woodland Animals Set #3 – yes we needed
THREE sets to contain all the cuteness!
– on to white paper with black VersaFine ink and heat embossed them with clear embossing powder. She then colored them in with her Zig Clean Color Real Brush Pens. PRO TIP: Embossing your stamped images when you plan to watercolor can really help contain your colors and prevent any bleeding, making you look like a total watercolor pro with one easy step! When she was all done coloring, Jamie cut out her sweet little elements with our coordinating die set.
For her lovely graphic tag element, Jamie stamped the birch tree from the same set in the same black ink on a scrap of white card stock and heat embossed that, too, with clear powder to echo the lines from the stamped images. She then die cut that piece out with one of the dies from our Nested Tag Stitch set, also cutting a scrap of black card stock with the same die. She also cut two different shades of green card stock with out Slimline Grass die.
To create that nice, neat cohesive edge to her grass elements, Jamie layered her grass strips over the bottom of the tag die cut, raising the back one up for even more coverage and then placed the tag die over the die cut and ran it through her machine again to get those perfectly matched edges.
To finish off the tag piece, Jamie stippled shades of green from Color Fuse Ink Set #3 at the top of the tree to create a soft leaf effect.
Now Jamie stamped the left side of a card panel sized piece of white card stock with our Diagonal Stripes stamp in black ink and added some more details with one of the stamps from our Watercolor Splatter set around where the tag would go by stamping randomly with the same black ink. To set off her striped edge and to add just a teeny touch of light reflection, Jamie added a very thin strip of black glitter washi tape along the right edge of the stamping. As a final touch on the background, Jamie stamped her greeting from our Kittie Says Friends set in black in the upper right corner of the panel.
Now she adhered her panel assembly to a green card base, added her die cut images to her tag with dimensional adhesive, layered the black tag at an angle below her decorated die cut and then added the whole thing to the card with more dimensional adhesive. All that was left was to add a snippet of ribbon tied with some black and white twine and this card was ready to make someone feel VERY cared about!
Here are the items Jamie used today to create this adorable card: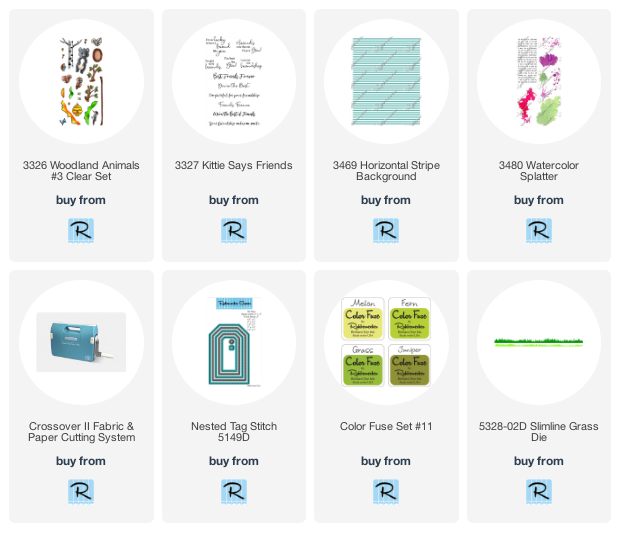 We love the idea of having a stack of handmade cards to support a friend for those times when you get wind that someone's in a slump. This card is making our "keeper" list and we think it will make yours, too!