You can send these handmade cute critter cards for any occasion!
Today we have an idea for some handmade cute critter cards that we see being just perfect for so many card-sending purposes. The little bear might be helping out his porcupine friend so it's lovely for an "I am here for you" card. Or Teddy might be applauding Porcupine's achievement getting to the top of the tree. Or they could just be crittering about. See what we mean?
And today's card is extra special because it comes to us from one of our brand new Design Team Members, Colleen Balija. You will learn more about Colleen in an upcoming Rubbernecker Design Team 2022 post and see why we love having her as part of our creative team, sharing so many fabulous designs, ideas, tips and another inspiring perspective.
Let's see how Colleen created this cute critter scene on a card so we can make one ourselves.
Colleen started by cutting a white card panel sized piece of card stock with the middle sized die from our Nested Scallops With Holes set. She then took the largest die from the same set and cut a piece of black card stock, setting it aside until assembly time.
Colleen stamped the tree and the bear from our Woodland Animals Set #2 onto her white die cut panel and colored then in using Copic markers in E18, E39, and E23.
To add her beautiful background, she made masks of both the bear and the tree and tacked them down over her stamped and colored images. She then used her cloud stencil – you can see how to make your own here – and using Arctic Color Fuse Ink from Set #7, buffed on the blue ink, moving her stencil down and slightly side to side with each application for lots of variety. At the very bottom of her panel, Colleen blended some Grass Color Fuse Ink from Set #11 over the white space she left for the purpose and then stamped over this inked area with the grass stamp from the same Woodland Animals set in the same ink color for a super dimensional grounding for her scene. When she was all done inking, Colleen removed her masks.
Now Colleen added leaves to her tree by stamping them with Juniper Color Fuse Ink from Set #11 and colored them in with a Copic marker G21. PRO TIP: If you don't have coordinating Copics, use a blending pen and fill them in using your Grass Color Fuse Ink.
To start creating the scene, Colleen used our Picket Fence die and cut some white card stock, adhering the die cut over the panel, lining up the bottom of the fence with the bottom of the card panel.
To add more cute critters to the party, Colleen stamped some bunnies, mice, our porcupine pal and the tree log with Copic-friendly ink onto scraps of white card stock. She colored these in with more Copics (in colors E18, E29, E23, C03, C05, C09) and then cut out the critters with our coordinating die and fussy cut the log.
Then, to create custom coordinated card stock, Colleen inked up four scraps of white card stock, one each in Grass, Juniper, Custard and Lavender Color Fuse Inks. She cut the Grass piece with our Grass #2 die, the Juniper piece with our Flower Stems die, and the Custard and Lavender pieces with our Tiny Flower Buds die, also cutting some of her Custard piece with our Sun Moon die (saving the moon for another project). This mini-technique is such a great PRO TIP because you can perfectly coordinate every color on your projects by making these little swatches of "matching card stock"!
Now that Colleen had all her darling parts and pieces, she started to build out this charming scene. She arranged her die cut pieces, tucking some of the foliage behind and around her die cut elements. When she had everything arranged to her liking, she started to adhere the farthest away pieces with liquid glue to start creating the depth that makes this card so captivating. She added her bunnies, her mice and the adventurous porcupine with foam tape to give them some emphasis in the scene. PRO TIP: allowing little edges of your die cut elements – like the rays of the sun, the tail of the mouse, the paw of the bunny – to overlap the outside of the background panel adds tons of visual movement to any scene like this, giving the card a lot more interest with no extra work!
Colleen adhered her almost-finished card panel onto the black die cut piece and then adhered both layers to a white card base. To add the last pop of detail to her project, Colleen added some Glossy Accents to the center of her sun and to the eyes of all her little critter friends.
Isn't this card just the cutest? There is so much to look at and anyone who received a card like this would instantly feel special! Here are the items from our store that Colleen used that you will want to have at the ready to make this at home: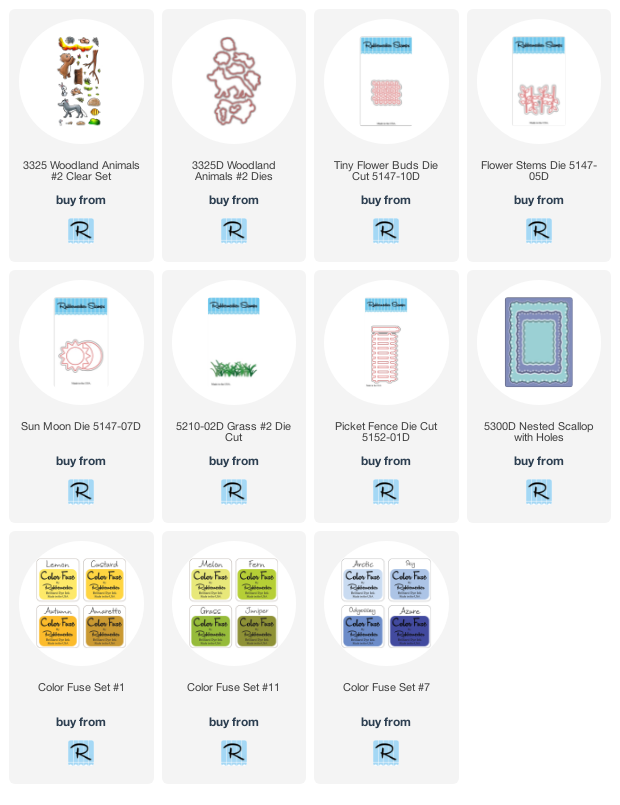 There are zillions of reasons to send handmade cute critter cards and with a card like this, we would imagine that finding excuses to send these out could become a mission! What a fun way to get to know Colleen and what she has in store for us!