We just can't get enough of this handmade Fall flowers shaker card!
With these beautiful flame colored blossoms, this handmade Fall flowers shaker card celebrates this season with so much beauty. Shaker cards are enjoying a new turn in the spotlight these days and this card is just perfect for just about any Fall occasion. Let's see how Carol created this gorgeous card.
To make her card base, Carol added a card sized piece of white wood grain textured card stock onto a white card base and set it aside for the finale.
She then took a piece of white card stock cut to 4 ⅛" X 5 ⅛" and using our Clouds Stencil, applied Sonata Color Fuse Ink from Set #8 over it with her blending brush. Carol says to be sure to turn and angle this multi-shaped stencil to get beautiful, realistic shading in your sky.
For her shaker element, Carol made a "sandwich" with her acetate by cutting our Deckle frame twice from the same wood grain card stock and adhered the acetate between the two with some liquid glue. Then she cut a sheet of thick adhesive foam with the same Deckle Frame die, trimming the corners (just to make lining it up easier) and adhered to the back of her sandwich. Save all those adhesive foam squares – they are perfect for when you need slivers or snips of dimensional adhesive for other projects!
Now she moved on to those brilliant flowers! She stamped the layers of our Autumn Fire set with Color Fuse Inks from Sets #1, #2, and #4. She used Lemon for the first layer, then Citrus, then Apricot and finally, Crimson. We include a free layering guide for every clear layered set so you can get this level of detail and dimension easily every time. While she was stamping, Carol also created her leaves using (in order) Clover and Basil inks from Color Fuse Set #10. When all her stamping was done she used our coordinating dies to cut everything out.
Part of the extra appeal of this card is the multi-dimensional look and this was achieved by Carol's adding one bloom flat on her cloudy background and then placing the other two on the outside of her shaker layer. She laid these out "dry" to determine where to place her greeting and when she got a design she liked, she stamped her greeting directly onto her clouds. PRO TIP: You will definitely want to use a stamp positioner for this because you do NOT want to smudge or understamp on your beautiful work!
Now Carol was ready to stick that flower down over her sky and she did this with liquid glue, making sure she carefully stuck down all the edges to make sure none of her shaker filler bits got trapped under this die cut element. Carol filler her shaker element with her choice of filler – in this case pretty iridescent sequins in fall colors – and then peeled of the backing of her foam adhesive and carefully lined up her sky panel over it and pressed down all around to ensure a good "stick". (If you prefer, you can also add your shaker filler in a little pile on your background piece and lower your frame over it. Whatever works best for you!)
To finish off this lavish card, Carol added her other die cut flowers over the acetate using more liquid glue. Carol says "The glue will take a bit longer to dry and adhere to the acetate, but once it does, it's very secure!"
There you have it – absolutely gorgeous, lots of visual interest, STUNNING colors…….this handmade Fall flowers shaker card has everything you could want in a card that absolutely celebrates this season and any noteworthy occasion. Here's what you will want to have at your fingertips to put this together – add what you need to your cart and we will get it right out to you. Remember, all orders over $50 ship free and all purchases count toward your Gold Status membership!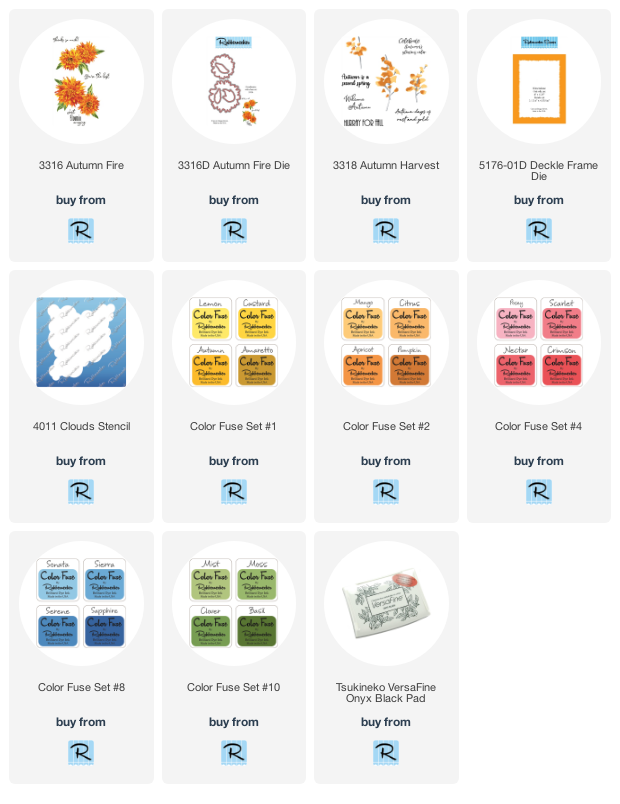 This month we've been sharing lots of Fall themed greeting cards that you can make with our stamps, dies, inks and other fabulous paper crafting goodies. This this handmade Fall flowers shaker card is a lovely example to have in our last week of all these fabulous shares and we hope it inspires you to make some Fall cards that look like they were crazy hard to make but are as simple as this.