For some card making instant gratification, try using ink spray to color your elements!
Today Renee is sharing such a fantastic short cut that we are thinking lots of us forget about – using ink spray to color our hand stamped flowers for some fast yet fabulous cards!
This is such an easy and so satisfying way to add color and texture to any stamped image and you can add as much or as little as you want in any colors to really build up your look. You can use bottle ink spray or you can easily make your own by mixing inks with water in mini spray bottles – choose ones that offer a finer mist so you don't get splotches – and experiment with the concentration of ink to water. There's no "wrong" way to do it and the colors are different yet still gorgeous every time.
Renee started with adding her ink spray to her card stock by taking some pieces of white card stock and spritzing a few different variations and shades of her chosen color stories on each. Renee went with some orange tones for her flowers and shades of green for the leaves. You can see how by adding several different shades in the same color family can add so much depth and dimension OR if you were to use several different colors altogether you could create a beautiful variegated look. The possibilities are endless!
Once these pieces were dry, Renee stamped images using our Daisy Day Dream stamp set, placing her images where she spotted a color variation she wanted to highlight. She did the same with her leaves.
All she had to do now to finish her Fall flowers was to cut them out with our coordinating dies.
To keep that beautiful "motion" that the ink spray helped create, Renee used our Script Border #2 stamp with Cinnamon Color Fuse ink on the right side of her background panel so it would peek out from behind her flowers. She then added her gorgeous die cut flowers all around the card in a curve shape from the right using varying thicknesses of dimensional adhesive to accentuate that lovely look of depth. PRO TIP: Arrange your flowers in a way that you like without worrying about fitting them on the card. When you are done, simply trim any parts that extend beyond the card edges. This technique really draws in the eye and sets a whole scene with your cards.
For the final touch, Renee stamped a sentiment from our Autumn Harvest set onto a scrap of white card stock, cut it out with a die from our Nested Oval Small Stitch set and layered it over a scrap of black cut with one of the dies from our Nested Oval Scallop set. She then layered her card panel of a very thin mat of black and added both to an orange card base, lining everything up on the right so those layers just peeked out on the left. Such lovely little details! Renee popped her sentiment on with some foam tape and this beautiful card was already done!
Here are the things you will want to pull from your stash or add to your card to reproduce this beautiful card: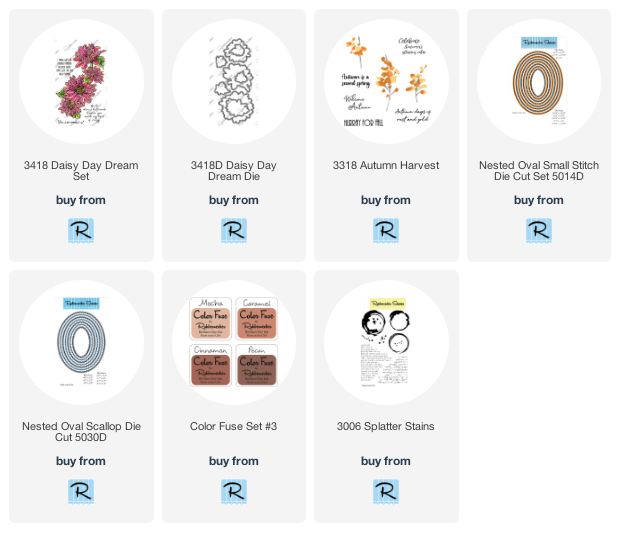 Thanks to the random nature of how these flowers are colored with the simple application of ink spray and how easy this card is to build, this is a perfect project for when you need a stack of beautiful cards that you can clearly claim as handmade!