This sweet handmade lamb card is perfect for Easter AND other occasions!
Colleen was inspired to create this delightful handmade lamb card for Easter this year and with a simple greeting swap, it can be used for so many other card-sending purposes. Colleen says "Lambs remind me of when my kids were little and I would spend so much time creating their Easter baskets. I wanted this card to be as innocent as that time in our lives!".
The lamb is a prominent symbol in many faiths, representing sacrifice and gentleness. For Christians, lambs can represent Christ as he made the ultimate sacrifice of his own life for his believers. So the lamb has become a popular image for people who celebrate Easter and Colleen has combined her celebrating Easter with a card design that is also just plain cute!
Let's get the inside scoop so we can try this out ourselves!
Start by placing a strip of low tack tape, like masking tape or washi tape, at about the one third from the bottom of your white card base.
Using Caramel Color Fuse Ink from Set #3, blend the ink below the tape, fading out with a lighter and lighter touch to create an uninked area at the very bottom to add that realistic depth to the scene.
Remove the tape and reapply it over the brown "ground", lining up the edge of the tape with the edge of the brown ink. Now using Sky Color Fuse Ink from Set #7, ink blend the blue about ½" up from the ground.
Using our Clouds Stencil, use the same blending applicator and more Sky Color Fuse and add layers of clouds in the open space above the horizon. Use a light touch to add just a hint of dimension in your background.
At this point, you may want to "dry arrange" (lay out without adhesive) your fence and upright lambs to gauge where you want your sentiment. Colleen knew she was using her Easter phrase and that it would fit after she adhered everything together. If you are using this card for another purpose, you may want to test fit and stamp your sentiment now.
Now stamp the three lambs and two floral elements from our Lambs and Flowers set in alcohol-friendly black ink on white card stock. Color in your images with your alcohol markers, using warm shades of gray for the lambs to make them extra cuddly! Color in your flowers and then cut them all out with our coordinating die.
While you have your die cutting machine out, cut a piece of white card stock with our Picket Fence and cut some pieces from the scraps with our Grass #2 die. Color the grassy pieces with shades of green alcohol markers, using a mix of lighter and darker colors to help build the depth on your card.
Adhere the picket fence lined up with the right side of the card and the bottom right on the horizon.
Arrange the two standing-up lambs so their little hooves are sitting on that horizon line, with one of the little darlings partially in front of the picket fence. Place the sleepy fella in the foreground, resting in a comfy patch on the ground. Add your flowers and then tuck your grassy tufts her and there along the horizon. Notice how this layering of elements even without using any dimensional adhesive still gives the illusion of depth and dimension.
If you haven't already, stamp your sentiment and your card is ready to go bring joy and love to someone special!
Here are the goodies Colleen used today: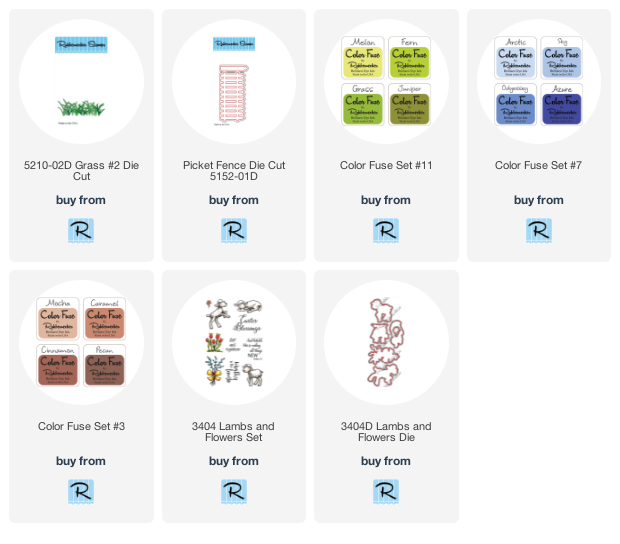 We adore this little handmade lamb card – all that pretty dimension without additional thickness, the lovely color details and the overall cuteness factor! And being able to create a card that is very special for one faith that can then be fully appreciated by anyone makes this idea a keeper!