Yes, this stunning handmade monochromatic floral card is quick and easy!
The other day we shared this video and today we've got another completely different take on how to make another type of handmade monochromatic floral card that is a total stunner. AND – it's quick and easy, truly! And thanks to our always-generous Design Team, we've got all the details so you can make this at home today!
Colleen said she was inspired to make this complimentary monochromatic abstract background using the different layers of our Summer Bloom stamp to create the entire look and that "the cute Nested Scallop dies add a touch of flirty fun to it". We agree – let's dive in!
First, Colleen created a custom colored card stock by applying our Orchid Color Fuse Ink from Set #6 using the direct to paper method onto a card sized panel of white card stock. Direct to paper means just that, apply the ink pad directly to the paper for even coverage. PRO TIP: When you are adding a panel over a piece of card stock that you are using this technique on, only color the edges, saving time and ink. PRO TIP #2: Using direct to paper inking is the most fantastic way to create perfectly coordinating, "custom colored" card stock for your projects!
Colleen then cut that piece with the largest die from our Nested Scallops With Holes set and cut another piece of white card stock using the middle sized die.
Taking that white die cut panel, Colleen stamped a background onto it using layers 2 and 3 from our Summer Bloom set using Lavender Color Fuse Ink for layer #2 and Lilac Color Fuse Ink for layer #3, both from the same Color Fuse Set #6. Remember we specially formulated the colors of these inks so that each set works together to offer that beautifully coordinated tone and hue to allow you to easily create monochromatic color schemes, ombre looks and perfect seamless blending. Colleen used this to her advantage with this gorgeous color story!
When she was done randomly stamping her floral layers over her panel, she stamped a sentiment in the lower right corner with the Orchid Color Fuse Ink and adhered this to her custom colored Orchid die cut panel.
Now she created her die cut focal element, her beautiful flower. She stamped the layers of the same flower using the same Color Fuse Inks in Set #6, going from lightest to darkest through the layers following our included free layering guide that we've created for each of our clear layered floral sets. She stamped the foliage layers similarly using the inks in Color Fuse Set #11. She then cut out her gorgeous bloom using our coordinating die.
For more custom colored elements, Colleen used the direct to paper method with the inks from Set #11 and die cut several sprigs of foliage using our Flower #6 die.
Now she arranged her die cut flower stem and her custom color die cut foliage, being sure to allow the die cut stems to peek out around the flower. When she had it just so, she added the die cut foliage with some liquid glue and the flower stem with dimensional adhesive. She popped her die cut panels onto a card base and – VOILA – gorgeous card!
Here are the things you will want to take out or add to your card to make this card, and remember, this will be STUNNING made with any of your favorite Color Fuse color sets!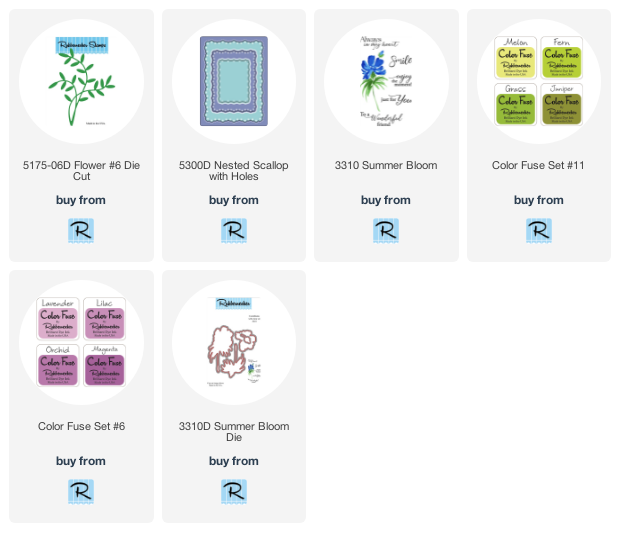 So, to review Colleen's steps:
– Die cut layers and custom color the largest with direct to paper inking;
– Use the different stamp layers and the same ink set to stamp the background;
– Stamp the flower with the same stamp and the same ink and die cut;
– Make some custom colored card stock for foliage die cutting;
– Assemble.
So easy, right? This delightful handmade monochromatic floral card is perfect for so many occasion and you can make a stack of them to have on hand in all the colors you love!