Use this fun trick for inset die cutting to make cards that are real treats!
Today Jamie is sharing her fun method for using inset die cutting to add pops of color to her background and it could not be any easier! And the best thing is that you can cut a bunch of the pieces and then just mix and match to your heart's content giving you lots of options and plenty of extra backgrounds for more cards.

Let's check it out!
Jamie started by cutting pieces of black, lime and bright purple card stock with our Striped Cover Die. She adhered the black piece to a black card front and then took a few of the die cut strips from the other two colors and adhered them into the corresponding openings in the black die cut. Insetting these pieces creates that custom look and is so incredibly easy to make using this quick step. Jamie did secure these with little dabs of glue to keep them flush and to make sure no one decided to wander.
Jamie them used our Rectangle Combo OPC #3 Die to cut the same colors of card stock, keeping one of each of the three central pieces in each color and saving the rest with the die for future projects.
Jamie adhered these three pieces together and then using our Small Classic Alphabet Die, cut the word "BOO" from black glitter paper. PRO TIP: To adhere your word in a nice straight line, use a ruler across your background and adhere the letters using it as a guide. No pencil lines to erase!
For that little touch of spooky, Jamie cut a scrap of the black glitter card stock to cut one spider with our Bats and Spiderwebs die and then used that and our Ghosts die to cut some white card stock. She added some black scraps to the backs of the ghosts over their eyes and mouths.

She popped the greeting piece in the center with some foam tape adhesive, adhered her spiderwebs in opposite corners and added her sparkly spider with more dimensional adhesive. She then adhered her little ghosts and used black Stickles to fill in the eyes and mouths of her ghosts and in the little holes of the element around her word.
Very cute, very quick and lots of details made easily with die cuts and this fun inset technique. Here's what Jamie used from our store today: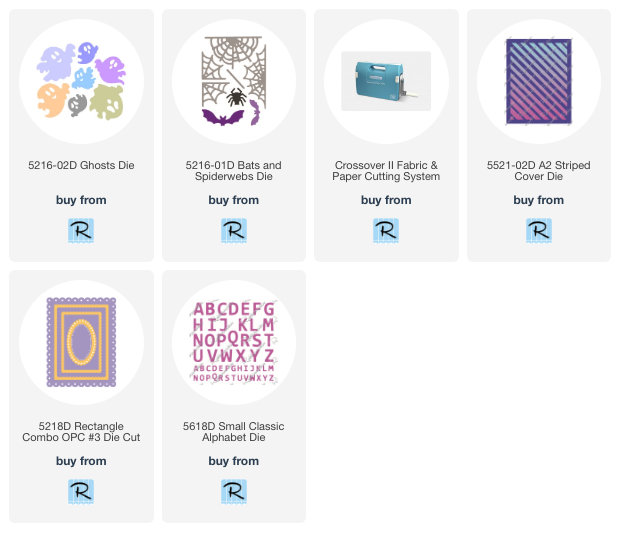 Inset die cutting is an often overlooked but easy way to add lots of fun details to a card. Here in the background it provides all the colorful impact with just a few spins through your die cutting machine and some easy mix and matching. Try it out and see what you come up with!