Check out a card made with another set of our brand new layered stencils to color flowers!
People are going bananas for our brand new layered stencils to color flowers that they can then stamp the details with our new coordinating sets. Wow! We love stencils, and certainly we've had lots of great feedback from you all for our others. But these layered stencils that let you color each section of the flower differently have hit a sweet spot!
Today Carol has created a bright and sunny card for us using our new Radiance in Bloom stencil set and coordinating stamp. We got to see the Above and Beyond set in motion the other day and today Carol has some great detail shots for us showing how she created the beautiful rich yellow blossoms on her card. Let's dive in!
Start by stamping the flowers from our Radiance in Bloom stamp set with black ink onto white card stock. Use our coordinating Radiance in Bloom stencil set to add the different layers in the yellows from Color Fuse Set #1. Start with Lemon, the lightest shade, for the first layer and go darker with each subsequent layer, ending with Amaretto for those last fine shadow details.
Use Clover and Basil Color Fuse Ink from Set #10 for the leaves.
Carol says that she found our stencils "VERY easy to line up" and loves that we included a layering guide to help you get started seeing how everything works together. Carol also added a handy PRO TIP: use removable tape not just to hold the stencils in place but to also cover up any other openings just in case you accidentally smudge ink through them. She adds "For me, it's not will I accidentally get color through those openings, but when will I! LOL!" . We hear you Carol!
Here are some great images of the stencils over the stamped images so you can see just how well everything comes together.
Here's the first layer ready for some Lemon Color Fuse:
Now the shaded petals are ready for Custard:

Here is the first of the detail stencil through which Carol added Autumn:
The very last application (not shown) was done with the darkest shade, Amaretto.
Now, instead of using an ink for the flower centers,you can do what Carol did and use Nuvo Drops – she chose Ripened Pumpkin – applied with the tip of a pallette knife. (Be sure to wash your stencil immediately so the Nuvo Drops don't become a permanent accent!) After washing off the Nuvo Drops, Carol sprinkled the wet are with a pinch of glitter. If you can, you've got to try this. It's SO pretty!
While your blossoms dry, use the largest of our Outside Scallop Frame dies to cut three pieces of white card stock and adhered them together with liquid glue for a nice, thick frame. Adhere this to a card base.
When your floral design is dry, blend some Custard Color Fuse around the edges to give it that sunny "halo". Now we get to another awesome PRO TIP from Carol. She wanted to add some black splatters to her background but not over the flowers themselves – and didn't want to bother cutting a mask. So she placed the clear stamp over her stenciled area, mixed some black acrylic paint with a little water and, loading up a brush with the mixture, just tapped it over her panel
After you do this, remove the stamp and wash off any black paint before it dries. Then you can do as Carol did and add some gold metallic splatters over the whole design.
Trim your floral panel to 3 ⅝" X 4 ⅞" and adhered it inside your dimensional frame. Stamp the sentiment from the same stamp set with Versamark and heat emboss with white powder. Center one of our Small Tags dies over the words and cut it in your die cutting machine. Add that to your card with a little dimension adhesive and you are done!
Carol made such beautiful use of the gorgeous effects our new layering stencils create with those beautiful shades of yellow! And yes, of course you can use our layered flower stamps if you don't want to bother stenciling – we've got loads! But using stencils gives you a whole different look to the ink application and lets you experiment with additional shading with each layer of color.
Here are the goodies you will want to grab if you want to replicate this card. And we have it on good authority that ALL our Color Fuse Sets looks equally as beautiful with this design!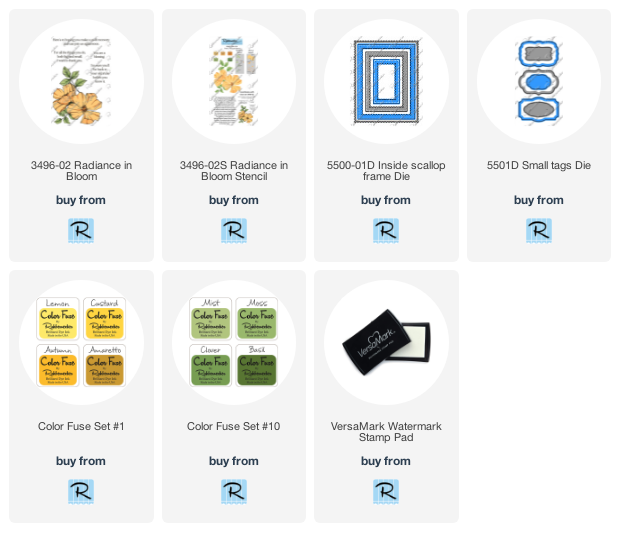 If you haven't tried out our new layered stencils to color flowers and you love the look of all that delicious depth and dimension created with color, we highly recommend you try at least one set – they are positively addictive!. Then come back and grab the rest – we know you will want them!