You just have to see this brilliant method of layering inks to make more colors when you are stamping!
We dream about having every shade in the universe represented in our popular Color Fuse Inks. Today, Carol has made that a partial reality by showing us a fabulous and easy way to use layering inks to make new colors that, naturally, work beautifully with every other shade of Color Fuse. You are going to love this clever trick and we suspect lots of our fans and friends will be experimenting like crazy this weekend!
Carol also shares a fabulous PRO TIP at how to get the most perfect, crisp outline to add in all those beautiful details when you are using any of our floral sets that come with the detailed stencils. You can see all of them here, including the brand new ones released just this week!
Carol is sharing ALL her details in this post so read along to get totally in the know.
Carol started with her card base by cutting a piece of the wood grain paper from our Harvest Time Rubbernecker Paper Pad with the largest die in our Outside Scallop Frame Die set. She adhered the frame to her card base and then FLIPPED the inside rectangle she'd just cut upside down and adhered that inside her die cut frame. This created a pattern mismatch with the wood grain and instantly added more dimension. GENIUS!
Then she used the next size down Outside Scallop Frame die to cut white wood grain card stock and then two more pieces of plain white card stock. Saving the interior rectangles of the plain white card stock for another project, Carol colored the textured frame with brown Copics to mimic dark wood and adhered all three frame die cuts together with liquid glue to make a nice, thick element. She adhered this to her card base.
Next Carol used some metallic gold watercolor paint to create some splatters over her white wood grain rectangle. When that was completely dry, she adhered it in the center of her dark frame on her card.
Now she moved on to her gorgeous flowers. Carol used our brand new Friends Forever set, the coordinating stencil set and the die to give us all a full experience! Thanks, Carol!
Carol used her stamp positioner – in this case, her MISTI – and says "I have found a way that works to have the crisp black stamped outline on the finished product! A MISTI, or other stamping tool, will be needed for this technique."
Carol stamped the outline stamps from the Friends Forever set in a no-line coloring ink. If you don't have this – no worries! Our Chill Color Fuse Ink from Set #12 is pale enough to stand in, or you can use any other very light colored dye ink. You just want something to help you like things up. NOTE: Leave the outline stamps on your stamp positioner!
Carol removed her stamped card stock from the positioner and used the free layering guide on the package to help her make her color choices. In this case, she chose Color Fuse Sets #4, 6 and 7. But wait, you say, I don't see any purple flowers?
Well here's where Carol's fabulous idea for layering inks comes in. Carol wanted more a violet blue shade for her smaller blossom. To create this custom color, she first inked Sky Color Fuse from Set #7 through the stencil with her blender brush. Then she layered on just a bit of Lavender Color Fuse from Set #7 over the pale Sky blue for her custom shade! She continued layering inks with Odyssey and Lilac for layer 2 and Azure and Magenta (all from the same corresponding blue and purple sets) for layer 3. Just spectacular!!
For her larger flower, Carol used Posey, Scarlet, and Crimson Color Fuse inks from set #4 and then stenciled her leaves in Moss, Clover, and Basil from set #10.
Now for her second amazing PRO TIP, Carol returned the finished stenciled image to her stamp positioner and inked up the outline stamps – still in their original position – with Versafine Onyx Black ink and stamped over her stenciled flowers. Just LOOK at the crisp, clean stamped outline and all those delightful details!
Carol then stamped her sentiment onto a scrap of white card stock, trimmed it into a rectangle and then snipped the corners off at a right angle for a little extra detail. She also die cut her beautiful custom colored flowers out with our coordinating die.
All she had to do to finish this gorgeous card was to add the flowers and sentiment with some dimensional adhesive and up the bling with a few gold gems. SO pretty!
Here are the things Carol used today – shop your stash, add what you don't have to your cart, browse our Color Fuse Inks and start thinking about how you might use the trick of layering inks to create your own colors: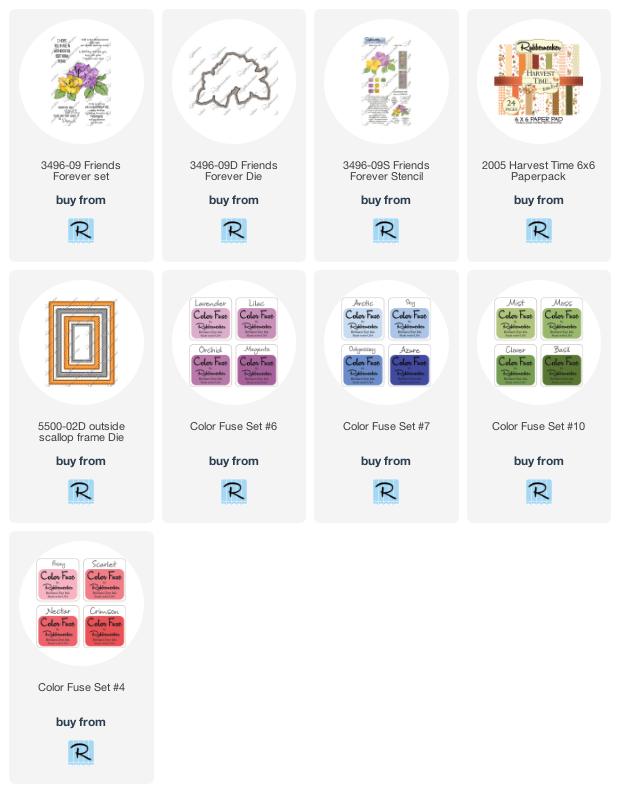 Are you so inspired to try layering inks to get new colors? We know that the next time we have a good long stamping session available, we are totally going to be mixing shades of Color Fuse to see what we can come up with! If you DO try this, we would love to hear what your winning combos are!