It's that time again – even more new stamps from Rubbernecker!
Did you have a chance to check out our big September Release full of new stamps last week? This was such a fun release with a little something for everyone. Like critters? We got that! Love Layered stamps? We got that too! Love new sentiments that fit a plethora of cards? Check! Maybe some Gnomes to round out your friends? Yup, got those too! Our designer, Preeti Chandran, created some really fun cards using the new stamps, and we just had to share them with you!
First up is this awesome interactive slimline card, using our peek-a-boo die cut. Behind each of these little windows is a Gnome friend from our Garden Gnome set, just waiting to be revealed! This set is cool because it's not necessarily Christmas themed and can be used all year. The sentiment is from our new Holly Circle Gnome Sentiment set, and take these gnomes into the holiday genre.
Her coloring of the background by blending our Color Fuse Inks, really makes these little fellas pop. We also love the non-traditional Christmas colors of red and teal, so fun!
Next up, Preeti made a card using our Woodland Animals #1 clear set. Again, this set is neutral and can be used all year long, but by coloring up the deer the way she did, it made an amazing Christmas card. This is from one of three different Woodland Animal sets released this month.
Next up we have two new layered floral stamp sets. These are just a type of stamping that many people are loving right now for its simplicity and clean look. We have so many florals that cater more to those wanting to color things up with different mediums, including a whole line of watercolor stamps, but these layered sets stand on their own as a fun category of stamping!
This first one is our Fresh Florals set paired with a sentiment from the new Kittie Says sentiment set.
This second card is using our Just Because set, and amazing Color Fuse Inks which were created with progressive hues to work perfectly with these layered stamps.
Add any or all of these brand new stamps from Rubbernecker to your shopping cart!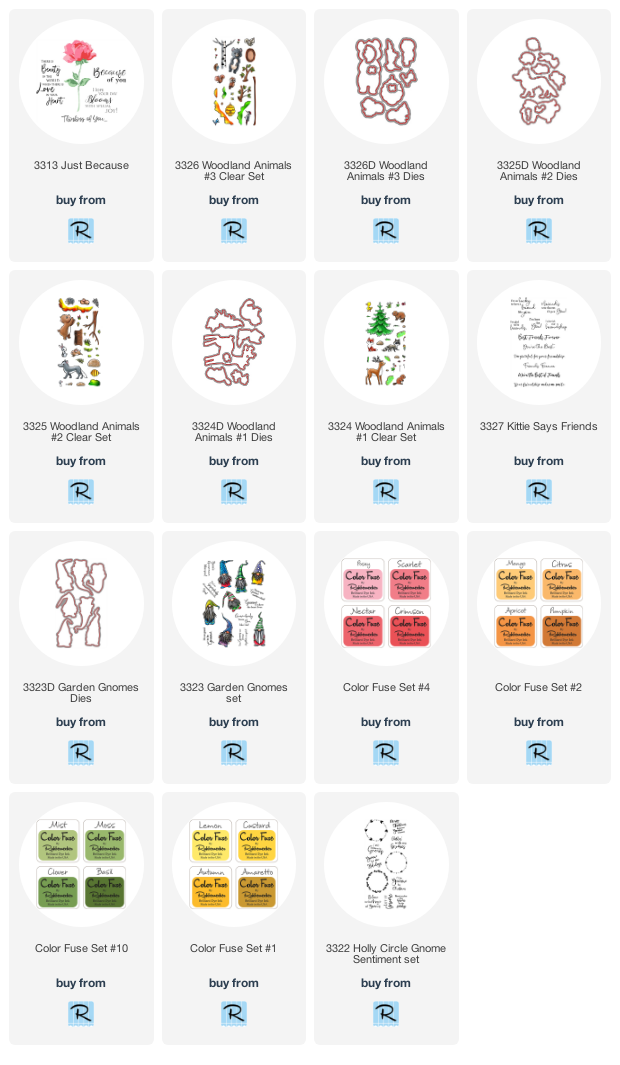 We know you all love the "New Stamps From Rubbernecker!" news and this release has so much packed into it! We really hope you enjoy making beautiful cards with these gooodies. And if you want to see even MORE items from the September release, be sure to check out the video from last week here.