Right on trend and oh so pretty, this idea for pink and silver holiday cards is also quick and easy!
Today Melinda is serving up an idea of one of the prettiest pink and silver holiday cards we've seen. With pastels being one of this year's holiday card trends, this soft pink with a metallic neutral – also on trend! – creates a soft look that will stand out on that mantle! Melinda says "I wanted to create a card without a bunch of coloring and something that could be made in large batches. This card was so easy, and with a great sentiment like the one from the Christmas Cheer Gnomes set you've got a quick Christmas card that you can make a lot of easily." And you all know how much we LOVE batch card making!

Let's check out Melinda's steps and get on this trend, too!
Melinda started by cutting some pink and also silver glitter card stock with our Small Star Outline die. Melinda says she spent about a half an hour cutting stars and had a great pile to use to make a whole stack of cards at once.
Then she chose a non metallic silver colored card stock for her card background. PRO TIP: You can make your card bases out of this card stock, of course, but often white card stock is available in bilk for less per sheet. Make your card bases out of the less expensive material and use your more decorative paper for panels when you are batch card making for some money savings.
She cut this paper with the largest die in our Nested Rectangle with Squares die set and stamped the sentiment from our new Christmas Cheer Gnome set in the upper center of the panel.
Then she used our Rectangle Combo #4 die to cut three pieces of white card stock and adhered them together to make a thick element. You can use just one per card if you want to make this even faster! PRO TIP: Melinda saves all her extra frames when using a one piece die like this one right in the plastic sleeve she uses to store the die.
She added her frame to her card panel and before adhering the panel to the card base, Melinda punched out the center square holes on each side for a little visual interest. You can leave them all in, punch them all out, or let the holes appear randomly – there is no right or wrong way to use this fun feature.
Now Melinda added her stars randomly. Some she stacked, some she nested and some she left plain. She just played around until she liked what she saw and as you can see, it came out great!
Here's what you will need from our store to make this card: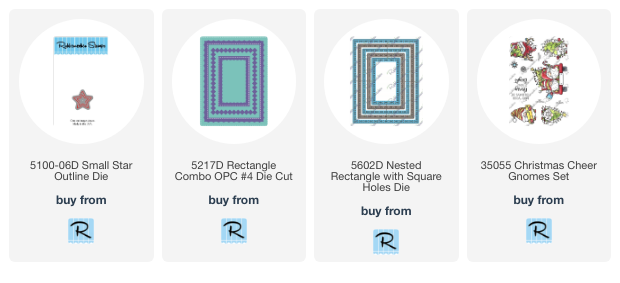 These pink and silver holiday cards are, as you can see, SUPER easy to make and would be an ideal project to make with kids! Use glue dots so there's no mess and let them pop the stars on as they like. Easy, sweet and inexpensive – a great card to make and send this year!