Check out this fun twist for creating a reverse stencil from your die cut!
Today Jamie is sharing a really innovative and fun way to use your die cuts to create a fun reverse stencil to help you add extra details with one easy step! We just love the way her night time "lights" peek through the skyline and she says she was inspired to thank a million people in a city with a million thanks. What a fun perspective! Let's see how she did it.
First, she used our Slimline Skyline die to cut a piece of gray card stock and then cut the skyline again along with a piece of white card stock with the Nested Scallop with Stitch die. (Note: in the images, Jamie left her skyline long so you can see the details better.)
Now, line up your skyline on the white panel, matching the stitched edges for that lovely finished look. Now take the negative piece – the piece leftover from die cutting the skyline you are going to use – and place it lined up with the die cut.
Jamie secured the top portion in place in a way that it will NOT move – Jamie used her Wendy Vecchi STAY-tion. You can use your own magnetic surface with extra magnets or washi tape to make sure this won't budge.
She didn't want it to move because now Jamie removed the actual skyline die cut (that is going to be used on the card) and she applied Lemon Color Fuse ink all over the reverse stencil area with her favorite blending tool.
Now, she removed her reverse stencil and adhered the skyline die cut over the bright yellow night lights! SO COOL!
Jamie stenciled some clouds with our Clouds Stencil using Sonata, Sierra and Sapphire Color Fuse Inks and added her greeting in the upper right corner with blue pigment ink heat embossed with clear powder. She layered her whole fabulous scene onto a blue panel, tied the bottom off with some twine and added it all to her card front with some dimensional adhesive.
Here are the items you will want to grab to make this project yourself: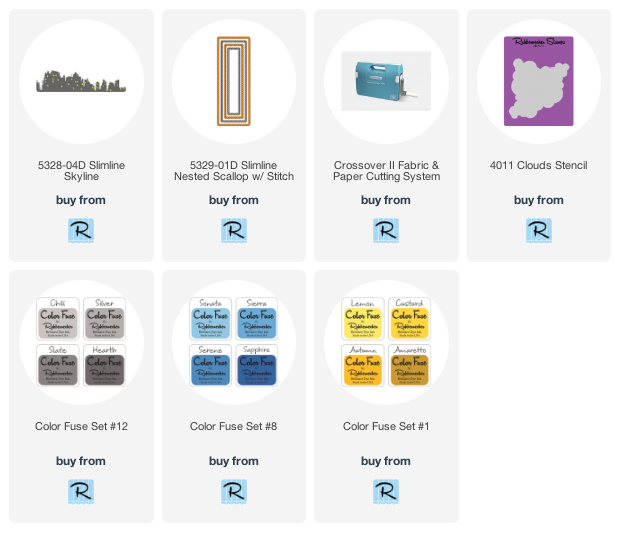 Do you like this cool twist on using your negative die cut as a reverse stencil? This is a fun way to add details without adding extra layers and we would love to see your adaptations so be sure to share your projects on our Facebook page!