See two beautiful cards made using the perfectly seasonal patterns in Rubbernecker Harvest Time Paper Pad!
When we created the Rubbernecker Harvest Time Paper Pad, we chose a combination of patterns that included some classic looks with some bold graphics so there would be something for everyone. Today we have two cards from Allison that show this off to perfection!

Allison used one of our more nostalgic patterns for the backgrounds on both cards and used two different styles to create two entirely different but utterly captivating looks.

Let's take a peek at the first card where where she added those geometric elements for some style contrast. Her beautiful fall themed shaker card adds stripes from another pattern from the Harvest Time 6 X 6 Paper pad along with the crisp squares made with our Mini Slimline Diamond Cover Die. To soften the look but keep that modern edge, she decorated her card with blooms made with our Open Flower #1 die set, inking them just enough so they stand out.
For her second card, Allison used the same pretty paper on the background and this time complemented the look with more dainty, watercolor look elements. She added our Floral Wreath, stamped and heat embossed in gold and die cut, with just a touch of green on the leaves. She then used our Classic Pumpkins and Pumpkins and Ivy dies to create dimensional details, coloring them with ink to give them a soft, water color look.
We get so inspired seeing our own creations – in this case the designs in our Harvest Time 6 X 6 Paper Pad – used in such creative ways. And we hope these peeks at projects inspire YOU to try out different things with the same designs.

Here are the items Allison used for her shaker card: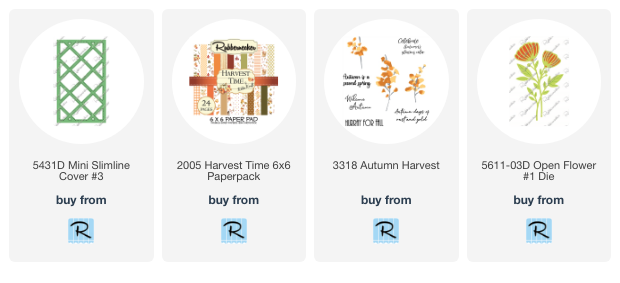 And here are the things she used for that pretty pumpkin wreath card: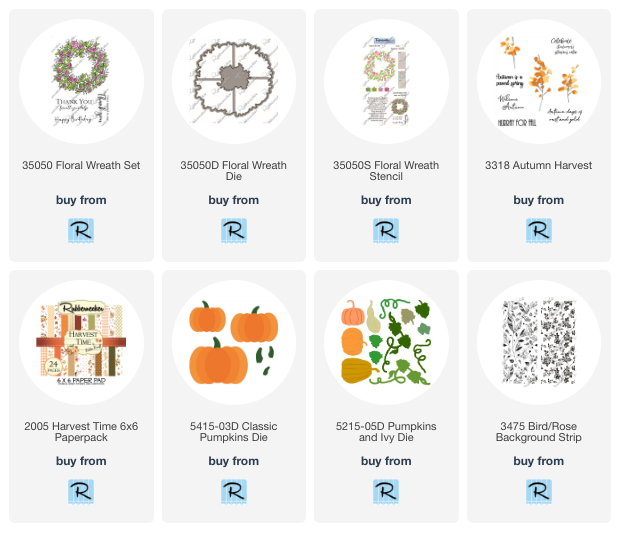 If you haven't snagged your own Rubbernecker Harvest Time Paper Pad, get one and play around with all the designs! We are betting that you will love them so much you will want to get right to making your own pretty cards for fall right away!