Come see how to make this simple yet gorgeous card with silhouette stamping over ink blending.
Melinda says "I love checking out older trends in card making. I was super inspired recently by some cards using silhouette stamps". That inspired her to create this beautiful, moody, mystical card using silhouette stamping over ink blending. It's so simple and we think an undersung technique, which you can appreciate when you see a card like this!
Let's see how Melinda made this and why she says she loves this design because she can make a bunch of these cards at once.
She started by cutting a card sized panel from scrap paper. She then used the 4″ tall die from our Nested Rectangle With Pierce Die set to cut out the center of this scrap to make a mask.
Melinda used some old washi tape to adhered this to a piece of white card stock. She tore a piece of scrap paper and adhered it over the mask to create her hilly horizon. She also used a small circle die to cut more scrap paper and used repositionable adhesive to add it to her sky to make her moon.
With everything secured, she began her ink blending to create that beautiful, velvety night sky. She started with her lightest blue – Arctic Color Fuse Ink from Set #7 – and blending it around the edges, leaving plenty of white space in the center.
She then blended Rose Color Fuse from Set #5 over some of the white and into the light blue to create that gorgeous lavender. And finally, Melinda added some Azure Color Fuse also from Set #7 a the top corners and along the bottom to suggest a distant mountain range.
When she had her sky just how she loved it – and remember, everyone's vision is beautiful even if it isn't the same! – she removed her masks and using Chill Color Fuse from Set #12, she added some details to her hilly landscape and blended a smudge of a cloud over the moon.
To complete her vista, Melinda used the grays from Color Fuse Set #12 to stamp the trees from our Pine Tree Forest stamp set in different shades to create some depth and shadows. And to "anchor" everything together, she stamped the largest tree in the darkest ink – Hearth – off to the side, spanning the inked and white areas of her panel.
After stamping her sentiment in Hearth at the bottom, Melinda cut this piece with the largest die in the Nested Rectangle With Pierce Set and layered it over a piece of lavender card stock cut to offer a whisper of a border. That then went on to a card base and this beautiful card was ready to send!
Here are the items from the store that you will want to grab if you want to make this same card: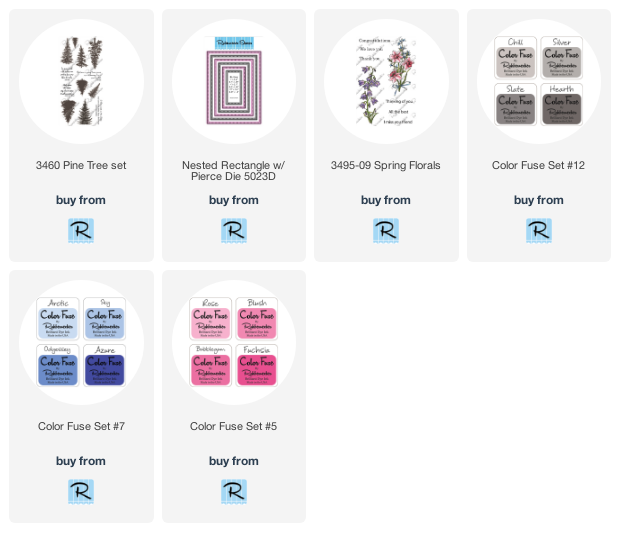 We can see why Melinda was attracted to this technique of silhouette stamping over ink blending – the results are so exquisite and the look is so perfect for a thank you card!