Purple flowers and a teal ombre background combine to make a stunning card!
We love beautiful color combinations and this teal and purple ombre card from Lisa just grabs our attention with these striking shades. It makes us so happy when we see ombre card backgrounds made so easily with our Color Fuse Ink and this card shows this off to perfection! Let's see how Lisa put this together for us so we can try it at home.
Lisa started by stamping images from our Precious Poppies stamp set with Copic-friendly ink into white card stock, colored them in with her Copics and cut them out with our coordinating dies and paper snips.
Now she moved on to her spectacular background. She cut a piece of white card stock using the largest die from our Rectangle Small Stitch set and adhered this to the back of our Geometric Stencil using some painters tape to prevent any shifting. She flipped this over and tacked it down with a little more tape.
Lisa chose the teal shades from our Color Fuse Set #9 and started blending the ink through the stencil from the lightest shade at the top down to the darkest at the bottom. Our Color Fuse Ink sets were specifically designed to offer this ombre effect without having to rely on pressure or guessing at how many applications to get the different degrees of color saturation. If you haven't tried using our Color Fuse Ink for this ombre effect or even this one, you've got to give it a shot!
Lisa removed the stencil and splattered the surface with some water, dabbed up the extra and then splattered the surface again with some white paint. This creates that visual movement we talk about – adding elements that create spots for the eye to move to over and over gives tons of extra interest without a lot of effort.
Now Lisa layered her stenciled panel onto a teal card stock panel cut to 5 ⅜" X 4 ⅛" and then those onto a card front sized white panel. She then die cut another piece of the teal card stock using our Rectangle Combo OPC #3 die and adhered the largest frame over her stenciled panel with narrow pieces of foam tape. She, of course, saved the extra die cuts with the die for easy retrieval for future projects.
Now Lisa arranged her flowers over the panel and when she had it just so, adhered them to her card with varying thicknesses of dimensional adhesive and liquid glue. To create a crisp white border, Lisa used a white gel pen to clean up any of her colored edges. Great tip!
For her sentiment, Lisa stamped the words from our Darling Dahlias stamp set onto a scrap of white paper and trimmed it down close. Lisa says she deliberately chose a small sentiment to avoid covering up her beautiful ombre pattern – smart move. She added it with another piece of foam tape and last, added a few sequins to echo the splatter effect on the background.
Here are the goodies from our store that Lisa used today – grab what you need plus yur favorite Color Fuse Ink Set to try out this pretty ombre look: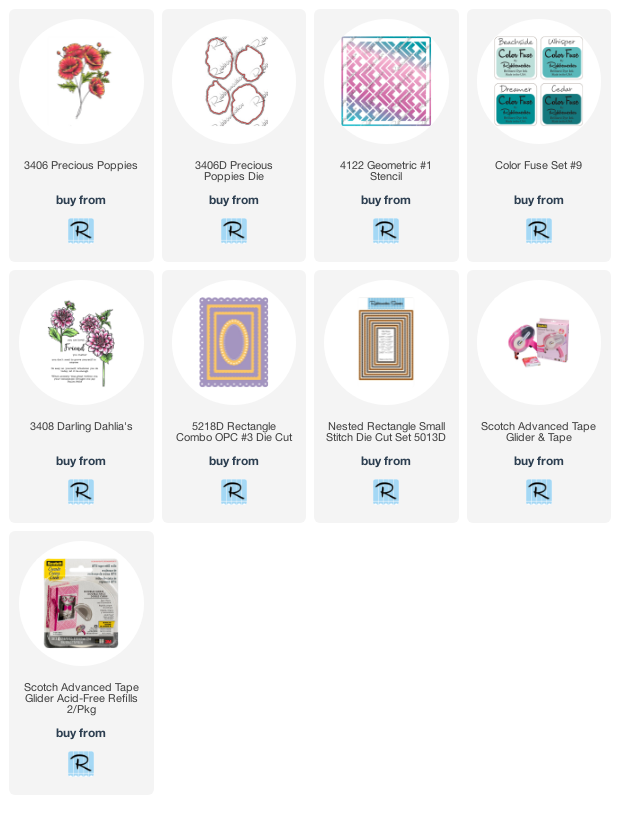 We couldn't resist another look at this beauty! Like we said, the combination of color on this teal and purple ombre card adds so much pop and that ombre background comes together with flawless blending thanks to the coordinating shades in our Color Fuse ink. Try it out!