How sweet are these handmade slimline tractor thank you cards?
Did you know if you google "tractor thank you cards" you will get over SEVEN MILLION results? It kind of makes sense when you think about all the hard working farmer we have in our country – what nicer way to express gratitude toward them with fun, handmade tractor thank you cards?
Apparently, Annie is right on top of the trend! She says "I was inspired by the rolling hills at one of the farms near my house in the early morning as the sun was just starting to come up." We love that she spread that scene across a slimline card so we can all really FEEL that beautiful dawn vibe. Let's see how she created this testament to our farming friends.
Anne started by stamping our Tractor stamp onto white cards stock with alcohol friendly ink and colored it up with her Copics; when she was finished she used our coordinating die to cut it out with a spin through her machine.
Then she made her gently rolling hills by cutting two different shades of card stock with our Slimline Sold Deckle frame die to get the bottom edge cut to line up with her final die cut panel (you'll see – trust the process!). Next, she cut each of those pieces with two different dies from our Slimline Hills Die set to get two different shapes.
While she had her machine out, she cut a piece of white card stock using that Slimline Solid Deckle frame again. She arranged her hills over it and when she had them positioned to her liking, she lightly traced the top edge to give her a horizon to stamp her trees from our new Pine Tree set. She used Versafine in Acorn and occasionally restamped without reinking to add that perception of depth to add all her trees in different shapes and sizes.
Now Annie created that can-you-feel-it warmth of the sunrise by blending Lemon, Citrus, Apricot and Pumpkin Color Fuse ink from Sets #1 and #2 over the whole scene. You can see how the superior formulation of our Color Fuse and our fastidious color choosing gives that incredibly rich, seamless blending. She also buffed a little Pumpkin ink along the bottom of her front most hill piece.
Annie used her Acorn ink again to stamp her sentiment from our Best Friends, Etc. set in the golden sky.
Annie took this gorgeous scene and added it to a panel of warm brown card stock cut to offer a very fine border and then added the whole assembly to her slimline card base with her tape runner. Then she added her hills in place with liquid glue and foam squares to create even more depth in the scene. Last, she added her hard working tractor to the scene with more foam squares.
Oh, we just love this! Here are the goodies Annie used for these tractor thank you cards that we all never knew we needed to make!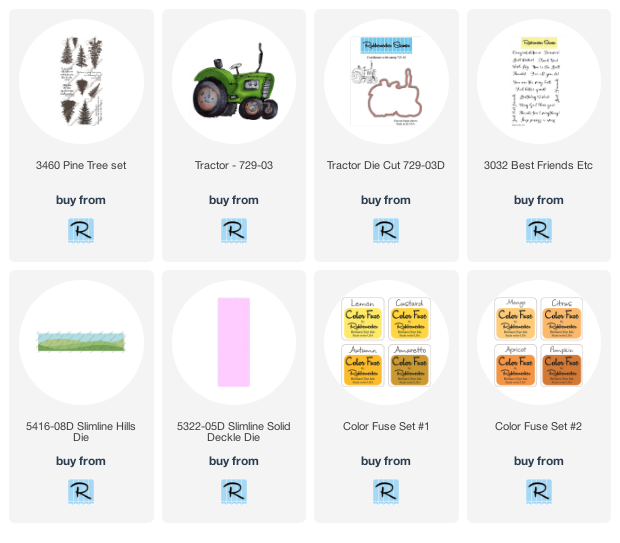 We have to admit that we were surprised that tractor thank you cards are so popular but when we thought about all the people who would love to receive a card tailor made for them, it made total sense. So who do YOU know who would be so touched to receive a card like this?