This winter bard card makes us feel all cozy!
As much as we love all the snowy, frosty winter cards we see this time of year, this peaceful winter barn card has us really wanting to peek inside to see the animals all warm and cozy! Natasha said as soon as she saw this die, she pictured a rustic winter scene and boy, do we love her vision! Now, though this version of Natasha's card is clearly intended for Christmas, the ONLY thing that makes it so are the sentiments, which are easily changeable. Let's take a look at how she did it.
Natasha started by cutting our barn die twice from white card stock, adhering the two layers together to give her structure some extra weight. She die cut the window pieces four times, and the door and roof trim twice each and adhered those together in pairs, too, for all that lovely detail and dimension.
Natasha used shades of brown distress oxide inks to blend over the barn, giving it a beautiful, warm, slightly weather worn look. She used some gray shades of distress oxide inks to similarly color the trim pieces. Once all the components were colored and thoroughly dry, she put the entire structure together with liquid glue.
Now she moved on to her background. She cut some white card stock using our Slimline Hills die and using the top hill as a guide, lightly traced along the cut edge onto a card sized panel of white card stock. This gave her a horizon line onto which she could stamp her trees and fill in her snowy ground. She set the die cut hill pieces aside for use later.
She used a few trees from our (SUPER popular!) Pine Tree set and using Fern and Juniper Color Fuse Ink from Set #11 together on each stamp, stamped her trees along her traced line. PRO TIP: Combining two shades, one slightly darker and deeper than the other, gives TONS of extra dimension to a flat stamped image.
Then Natasha added some sparkle to her background by applying embossing ink through our Slimline Dots stencil and then heat embossing with glittery embossing powder. But she wasn't done with her background yet! She applied some light blue distress oxide inks over her sky, staying darker at the edges. Then to add even more gorgeous visual texture, Natasha now laid down our new Snowflake Stencil and used a darker blue ink to apply some snowy details in her sky. SO dynamic!
Natasha took those die cut slimline hill pieces, trimmed them to fit her card and then applied Versamark over their whole surfaces, heat embossing with textured embossing powder and mica flakes. When she had them looking like freshly fallen snow, she adhered them to her card with some liquid glue.
Natasha stamped her inside and outside greetings; here is where you can choose whatever sentiment you want for this card and no matter what you choose, with very few exceptions, it's going to be perfect! PRO TIP: If you are afraid of messing up your beautiful background, use a stamp positioner to ensure your greeting goes on straight AND is set up so you can restamp if you need more coverage.
Natasha now adhered her beautiful bard with some foam tape and all that was left was to add it to a top folding card base and wrap some twine with a small bow on the top.
We just love that this beautiful card is made with something as simple as a traditional barn – the card ANYTHING but simple in how it makes us feel!
Here are the items from our store that Natasha used to put this together for us: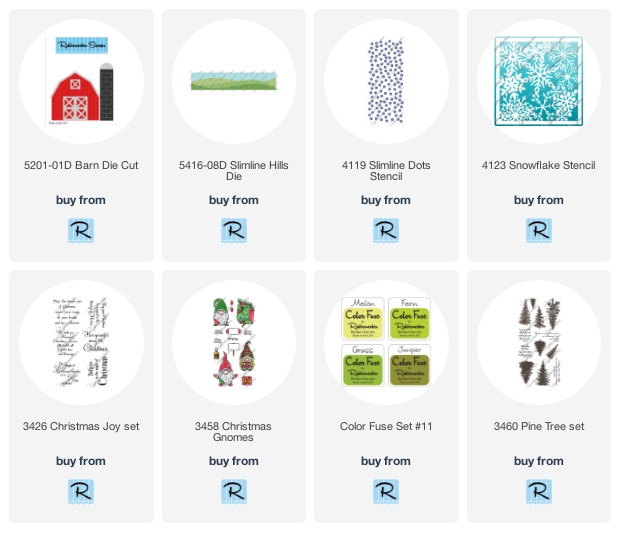 We get all the seasonal feels from this tranquil winter barn card – all frosty and brisk outside and most likely so cozy inside! Use one or all of the fun steps on one of your own!