Even though Christmas is past, there are still a zillion reasons to send winter greeting cards and when they are handmade by you they are, of course, that much more special. Today Allie has created for us an adorable and gorgeously unconventionally colored winter greeting card that you can use with any fun winter images.
First, she die cut some white card stock with her Frame With Curves and adhered the frame to her card front, reserving one of the curved cut out pieces from the middle (not the edges) of the die.
Allie applied glue to the front of that reserved piece, sprinkled it with white glitter and set it aside to dry.
Then she took another piece of white card stock and using inks from Color Fuse sets #5 and #6, she blended these beautiful shades up and over the panel, creating that stunning tonal ombre look. Using the darkest of the shades, she added some itty bitty snowflakes randomly over her colored area.
Then she cut that piece with her Frame With Curves die and adhered the cut out pieces into the openings on her card front for a really pretty no added layers look of depth and detail. Remember that piece she covered with glitter? She replaced one of her colored pieces with that and added the most delightful pop of snow to her scene!
Now she stamped her little trees, gifts and that stinkin' cute bear, colored them in and cut them out with the coordinating dies. Once she had laid out but not adhered her little scene, she stamped her image directly onto her assembled card front, being sure to gently press and hold – no rocking! – her stamp so the ink had a chance to really grab onto the different pieces. This is one of the great advantages of using this fill-in technique – you can stamp right on your card! Once that was done she adhered her little images using a variety of thicknesses of dimensional adhesive.
Here are the things you will want to add to your cart to make this and SO many other versions of these adorable winter greeting cards: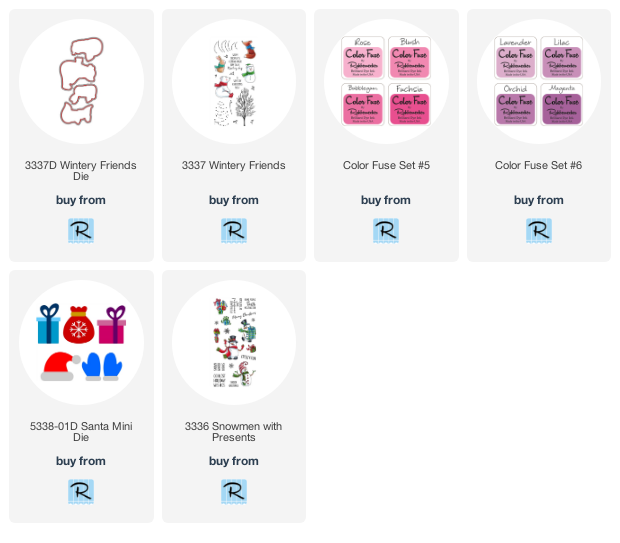 Think of all the occasions you might have to send handmade winter greeting cards – birthdays, new babies, get well, cheer up, congrats, we miss you, etc. Then picture your friends and family opening one of these! Right? So get stamping! <wink wink>