An adorable idea for some easy DIY Easter cards!
If DIY Easter cards are on your list this year, you SO want to check out this project! Anne is sharing her take on no-line coloring today and we just love the soft, sweet look it adds. She also has added a simple frame to a cute scene featuring our new Easter bunnies and taken the whole look up a notch. Let's dive right in and make one ourselves!
First, stamp the images from our new Bunnies Stamp Set onto white card stock using Mocha Color Fuse Ink for a no-line coloring look. As we shared in this previous post and here today, using this pale color gives you enough of a guide to know where to place your ink but fades out in almost all the colors so you get that hand painted look everywhere! Color everything in with your Copics and cut them out with our coordinating dies.
Now cut three different sizes of hills from different colors of green card stock using our Stitched Hills Dies. Annie cut them so the darkest hill would be the tallest and the furthest away, working toward the lightest and shortest to add some depth.
Then cut your finishing frame. Annie used some white wood grain textured card stock for some added visual interest. She used our Rectangle Combo #4 die, using the largest frame for this card and saving the rest of the die cuts for more projects in the future.
Then, as we see here, too (and it's so awesome!), make a stencil using our Slimline Clouds Dies; Annie made hers out of some double-sided reusable stencil material so she can use it over and over. Trim a piece of white card stock to 4″ x 5.25″ and using your stencil, blend some Sonata Color Fuse ink over the top half of the panel to create three levels of puffy white clouds. When you are done, stamp your greeting as shown.
Cut a piece of teal blue card stock to just slightly larger than your cloud panel. Layer your three hills over the clouds with tape or liquid adhesive, add the panel to the teal layer and then stick the whole thing onto a kraft colored card base. Add your frame over the whole assembly with some dimensional adhesive to add some more depth and shadows.
Arrange your bunnies and add them with more foam tape. Annie added some sweet little blossoms using our Small Flowers #3 Die on some pink card stock scraps. Shape them with your shaping tool and add here and there with a dot of liquid glue.
Here are the items Annie used today so you can grab them up and make these for your friends and family!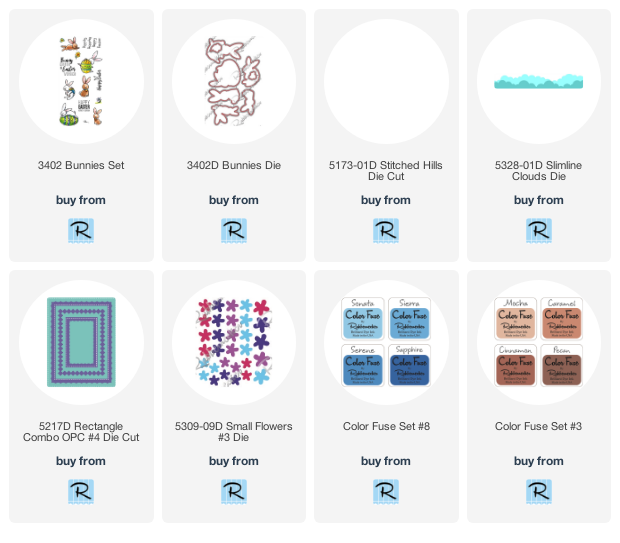 These DIY Easter cards come together super quick and the coloring is something you can do while you are binge watching your latest Netflix addiction. Make a few and send some "hoppy" greetings!