Today we are excited to share this handmade camping card to help you hold onto the tail end of summer! If you or anyone you know loves to go camping, this handmade camping card is a cute way to celebrate that passion. And it was SUPER easy using the new camping dies from our latest batch of papercrafting dies! For this fun card our designer Kittie used the Camping Tent, Camp Fire Set, Camping Items, Cooler, Winter Tree, Spring Leaves, Leaf Group, Grass and Birds.
If you love creating scenes, Kittie is always full of so many ideas. She takes our die-cuts and turns them into works of art. Be sure to follow her page here if you don't already! She has outlined all the steps to create this stunning card below. Don't have time to check it out now? Pin it for later….follow us on Pinterest for this and more!
Here are some basic instructions – the details are all on her blog.
Kittie started with the background by adding some clouds using a template and some Color Fuse Ink in Beachside and adhered it to her card base. She added two strips of grass at the bottom putting the bottom layer on with tape and the top layer with dimensional adhesive to give it some depth.
Then she created her tree from kraft and green cardstock, adding some dimension to the trunk with a swipe of Antique Linen ink direct-to-paper. She added some shape to the leaves with a pad and leaf tool and popped them all over with glossy accents. She added the tree to the scene using dimensional adhesive and glue dots. PRO TIP: You can roll your glue dots to form small dimensional "twists" for those teeny tiny spaces!
Next Kittie cut the tent from teal, yellow and white and put them together. She used black, red and white cardstock for that adorable cooler and filled it with some bottles using scraps. The cut the campfire from yellow and stones from gray and added some yellow Stickles to the flames before setting it up for everyone to sit around.
cardstock. For a place TO sit, she used teal and yellow to make the stools and got them ready.
Kittie wanted her pots and pans to look like old fashioned granite wear – remember that? – so she cut them from dark blue and added those spots with a white gel pen. Talk about DETAILS! The finale touches are the red birds and that lantern using black card stock and white vellum – SO cute!
You can see how she tucked things in here and there to make everything look so natural and inviting. Even people who don't like camping will LOVE to look at all the little details on this gorgeous card!
Just look at all the dies you can get for your handmade camping card sessions!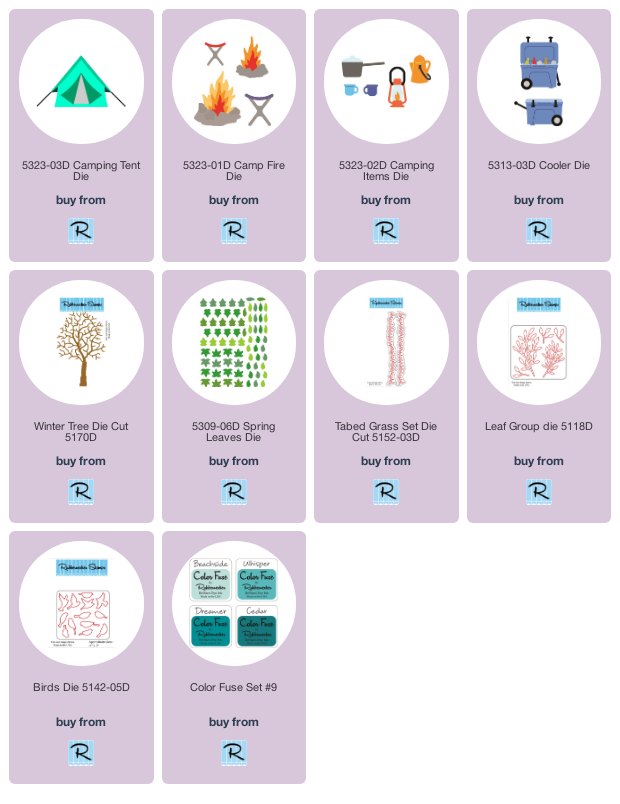 So whether you LOVE camping or would rather stay home and make a handmade camping card, We have you covered! Have you seen Kitties Z Fold Camping Card that shows another great layout for using these images? And, when you go camping you might want to fish so take a look at Carol's Under the Sea card. We hope you enjoyed todays tutorial as much as we have!