And today, some handmade Christmas cards WITH poinsettias!
Yesterday in this post we showed a non-poinsettia floral Christmas card and today we are flipping the coin and sharing an idea for handmade Christmas cards with poinsettias that is such a fabulous showstopper! Thanks to one of our easy-to-use die sets, making these gorgeous, realistic paper poinsettias is easier than the final project looks.
What is extra fun about this card is that Natasha, who is already an AMAZING card maker, was inspired by our own Associate Designer, Kittie to make this project. We think it's so fun that our design team are inspired by each other!
Let's dive in to how Natasha made her own version of this classic, elegant themed card.
She started by using our Poinsettia #2 die set to cut out the shapes from green and soft red card stock. She then used our Greenery #2 die to cut even more foliage from the same green card stock. To get that rich dimension and natural looking shading, Natasha used inks from Color Fuse Sets #4, 6 and 10 to add those details that make all the difference.
Then, taking a page directly from Kittie, Natasha used a molding pad and some tools from our Paper Blossom Tool kit to add tactile shaping to her die cuts. This is probably one of the most important steps when making realistic looking paper flowers from die cuts and it's SO easy to do! We love the easy-yet-awesome stuff! Kittie shared a lot about this through this post.
Once Natasha got these pieces into shape, she started building her flower by starting with a green layer at the bottom and added on each layer, moving it about to get the maximum texture and impact before adhering them together. PRO TIP: If you use liquid glue, you get more time to adjust the placement of your layers. Just give each addition a little extra time to set.
Then, for that beautiful mottling that is classic of poinsettias, Natasha used a little metallic watercolor to splatter her flower – we love the addition of that little shine! She also upped the glam by adding a little more sparkle and light reflection by adding some mica flakes and a little glitter to her greenery.
Now Natasha started to put together the card part of this project. She used our Diamond Stitch Cover die and Deckle Frame die and cut some white card stock with each, saving the little diamond pieces from the cover die. She adhered the Diamond Stitch die cut to a card sized panel of white card stock with liquid glue and then for some rich visual texture, adhered a few of the diamond shaped pieces together in pairs and then adhered those randomly into some of the openings in the cover die cut. She adhered the whole assembly to a card base.
When she had that piece just so, she adhered the Deckle Frame over the panel. Natasha stamped her sentiment onto a scrap of white card stock the Versamark and heat embossed it with gold powder. She chose to trim it into a simple rectangle and adhered it to the upper left corner with some dimensional adhesive.
To add the star of her show, Natasha tested out some arrangements of her beautiful blossom and the little supporting case of greenery and when she had something that appealed to her, adhered them to her card front and probably spent some time patting herself on the back!
Poinsettia Christmas cards are one of the most enduring themes and we've shared lots of ideas like this one recently, this one from our Christmas in July month and even a whole bunch here in this post.
If you want to make this particular project, here are the items Natasha used today: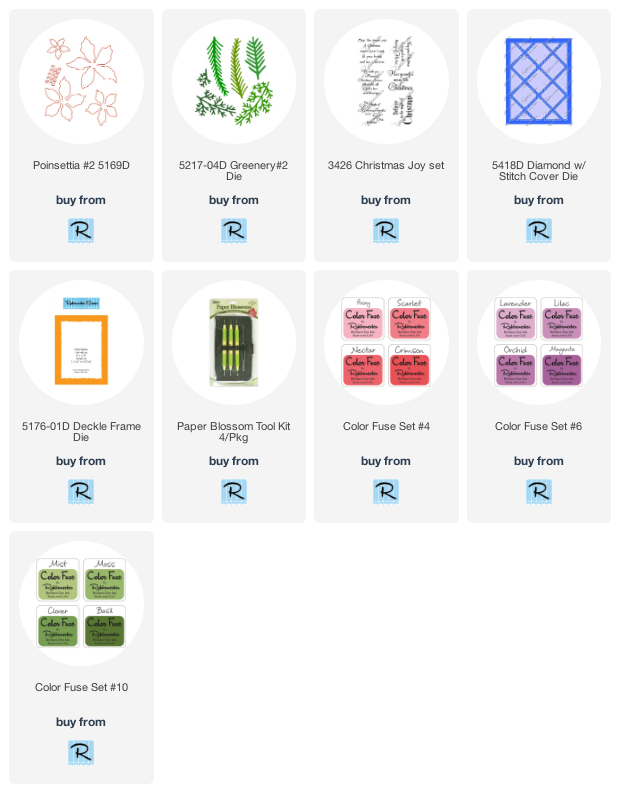 We hope this helps you see that creating your own handmade Christmas cards with poinsettias that no one will believe are paper is nowhere near as hard as they look, at least when you use our dies and follow our talented designers! Try it out – you will be hooked and the talk of your card receiving friends!